Date
1-2 February 2020
Location

All Saints School / Goals Soccer Centre

95 Norfolk Park Road

Sheffield

S2 2RB

Capacity

24 teams

Cost

£130 tournament

£30 party (in advance - £4pp on the day)

Social

#mixnmingle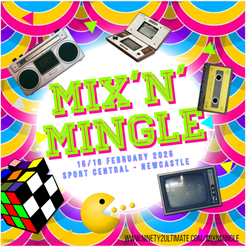 ---
---
We're back again!
After a successful 2019 tournament, MnM returns to the same venue with a slightly different set up which will hopefully make for a better tournament experience (see 'The Venue' for details). Many things obviously will remain the same, however, with some top quality mixed Ultimate, highly spirited competition, and a retro (predominantly 80s) soundtrack. Keep scrolling for further details.
With regards to entry fees, the tournament fee remains at £130 for another year. Venue hire and other fees do go up, but we will always seek to charge a fair fee, and keep an eye on other tournaments to see what going rates are. Whilst no one can rule out fee increases in the future, this will remain at £130 for at least another year. We are changing the way you pay for the party though. In 2019, we organised what would have been one of the best Mix'n'Mingle parties ever, but very few people wanted to attend, and certainly far less than answered 'yes' to the party question on the entry form. This year, if you want to attend a private tournament party, you will need to pay an upfront £30 fee. You would then receive 10 entries to the party, rather than paying £4 per person on the day. This allows us the benefit of knowing what numbers and budget we are working with. If the party doesn't go ahead or there is some other change of plan, the £30 fee will be refunded.
---
As ever, entry is split in to priority and standard. Priority entry is open 1-13 October and is open to teams in the following categories:
- Top 8 teams from 2019
- Any previous winners
- Any previous SOTG winners
- other invited teams
Payment must be received by 27 October to secure a priority place. If no payment is received by this date, your entry will be treated as standard.
Standard entry is open 14-27 October for all other teams. After this date, a ballot will take place to fill all remaining places. Payment will need to be received by 10 November to secure your place, at which point, unsecured places will be offered to teams on the waiting list.
UPDATE: The ballot for spots has taken place and successful teams have been notified. Unconfirmed spots will be offered to teams on the waiting list, after 10 November 2019.
---
All Saints Sports Centre is a double sports hall facility capable of hosting a variety of sports. It is home to the Abbey Flyers Trampolining Club, Sheffield Volleyball Club and the City of Sheffield Hatters Basketball Club. Located next to Norfolk Park, the sports centre shares a car park and facilities with Goals Soccer Centre. It's just a short walk from the 'Granville Rd - Sheffield College' tram stop, and approximately 15 / 20 minute walk from the main rail station / city centre.
We will be utilising both available halls throughout the weekend. The main 'arena' will be housing one pitch and including bleacher seating down one side. This will also provide the most space for small warm-ups and spirit circles. The secondary hall will also house one pitch. We also have use to the seminar room (just inside the main entrance) which all are welcome to use but priority should go to those with small children who may need to be away from the action and noise of the halls.
Players have access to use the Goals Lounge and bar area all weekend (at the time of writing we are not aware of any party bookings). They do serve food and drink in the Goals Lounge, (opening times to be confirmed) though the options are fairly limited. There are other options, including ASDA supermarket, a short walk or drive away.
We'd suggest not bringing a car if you can help it, but if you need to, and struggle to find a space in the car park, you could try the streets to the north of the venue. See Parkopedia for options.
---
We are using our classic 24-team format which provides a fairly tight schedule, but there are plenty of matches for all teams.
Round 1: 4 pools with 6 teams in each
Round 2: Cross-overs in the 5-12 and 13-20 brackets
Round 3: Quarter-finals (1-8, 9-16, 17-24)
Round 4: Semi-finals
Round 5: Finals
NB.
Top and bottom placed teams in Round 1 have one less game on the weekend (due to not having a crossover) but do get later starts on Sunday.
BASIC SCHEDULE (see the online schedule for full details):
---
As is traditional at Mix'n'Mingle, we simply ask each team to nominate their top 3 opponents for SOTG. Teams are then awarded either three, two or one point(s) depending on how you rank them. You must use the online form for nominating otherwise your votes will not count, and if you don't complete the form, you cannot win the prize! Please note, the form will allow you to nominate yourselves, but please don't. We will be able to identify this and you will certainly be out-of-the-running for the prize and will likely be named and shamed!
---
No accommodation is provided to teams so please consider this before entering. The tournament venue is close to the city centre and there is a wealth of hotel, b&b or AirBnB options available.