Date
9 April 2022
Location

All Saints School / Goals Soccer Centre

95 Norfolk Park Road

Sheffield

S2 2RB

Social

#stillgame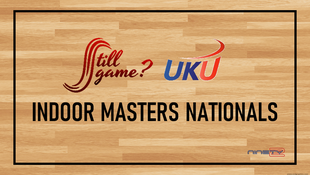 ---
---
Back in 2020, Mexican Horse Bandits rode away with the inaugural crown of UK Indoor Masters Champions! Building on the success of that tournament (after a covid-related hiatus in 2021) we are returning to Sheffield for the 2022 edition! 
We welcome entries from Open, Mixed and Women's teams. Based on interest received so far, but also allowing for potential Covid restrictions, it is likely that this will be a single day event for Open/Women's and a single day event for Mixed. The entry fee of £100 is based on this likely schedule, with space to accommodate 8 Open teams, 4 Women's teams and 8 Mixed teams. You are allowed to play in more than one division, but not on the same day. If your team would like to play both days, entering Open and Mixed, for example, that is fine but you will have to enter each division and pay two fees. Equally, an open and a women's team could combine to enter a mixed team on the second day. 
If this scheduling plan has to change, teams will be contacted to discuss options prior to any changes/decisions being announced.
UPDATE* - This year's event will be on a single day, incorporating a 6 team open tournament and a 4 team mixed event.
UPDATE** - Unfortunately the mixed division has been cancelled, and we are running a 7 team open tournament.
Scroll down for eligibility and team entry details.
---
Players are required to have at least basic UKU membership, but as this is a UK Ultimate National level event, we'd encourage all players to have full UKU membership. You can register and update your membership here: 
https://ukultimate.azolve.com/Account.mvc/Login
Further details can be found here: 
---
All Saints Sports Centre is a double sports hall facility capable of hosting a variety of sports. It is home to the Abbey Flyers Trampolining Club, Sheffield Volleyball Club and the City of Sheffield Hatters Basketball Club. Located next to Norfolk Park, the sports centre shares a car park and facilities with Goals Soccer Centre. It's just a short walk from the 'Granville Rd - Sheffield College' tram stop, and approximately 15 / 20 minute walk from the main rail station / city centre.
We will be utilising the main hall throughout the weekend. It will be set up with one pitch and including bleacher seating to watch the action and to provide space for teams. This will also provide space for small warm-ups and spirit circles. We also have use to the seminar room (just inside the main entrance) which all are welcome to use but priority should go to those with small children who may need to be away from the action and noise of the hall. Post-game calls and spirit circles should be kept to the main hall, seminar room or outside please. Do not use the corridors or reception area.
Players have access to use the Goals Lounge and bar area all weekend but there are sometimes party bookings etc so please be mindful of other users. They do serve food and drink in the Goals Lounge, though the options are fairly limited. There are other options, including ASDA supermarket, a short walk or drive away.
The surface is wooden sports floor, so wear non-marking indoor shoes please.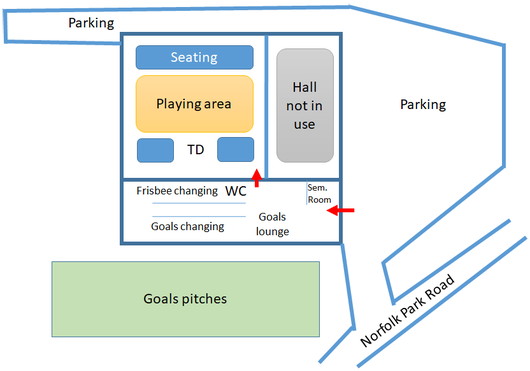 ---
The venue have no specific Covid restrictions in place, but please use your common sense when in small or communal spaces and respect other centre users. 
Before attending the event, all participants and spectators should self-assess for symptoms of coronavirus (COVID-19). Note that the NHS has recently updated the list of possible symptoms. https://www.nhs.uk/conditions/coronavirus-covid-19/symptoms/main-symptoms/
If anyone has one or more of these symptoms, they should not attend the event, and should follow NHS guidance on testing and self-isolation, even if the symptoms are mild.  
If you feel unwell at all you should not attend the event.  
We strongly recommend and ask that all players take a lateral flow test in the 48 hours prior to the event.  In the instance that you test positive, you should not attend the event, and should follow NHS guidance on testing and self-isolation.
Please ensure you wash and sanitise your hands regularly throughout the day. There will be a clean game disc for each match. Please ensure it is returned to the TD after your match to be cleaned for further use.
If an individual presents with symptoms at the event, or tests positive after the event has begun, they must:
immediately inform their Captain and/or COVID Officer and the Event TD
leave the event; or not attend if off-site at the time
follow NHS guidance on testing and self-isolation
---
OPEN
Danger! High Voltage
Wimpole UFC
Horsham Ultimate
The Brown
SPAFF
Norwich Ultimate
Super Pickup
MIXED - CANCELLED
Danger! High Voltage
Bambinos
Flyght Club
Super Pickup X
The basic schedule is below. A link to the 'live' online schedule is available at the top of the page.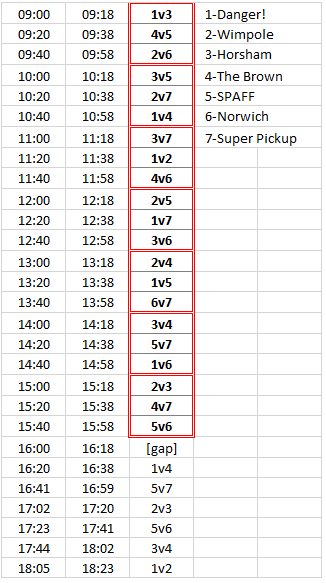 ---
UK Ultimate currently use the INDOOR RULES OF ULTIMATE 2021-24. These rules are based on the WFDF Rules of Ultimate 2021-24, so when compared with the previous indoor rules, you should see the latest version includes changes that we made to the WFDF rules in the latest (2021-24) edition.
Please be aware that some players will not have played Ultimate for some time, and may be a bit rusty with the rules! Everyone is encouraged to read and understand the rules, but please apply good Spirit when dealing with any infractions.
We are not expecting everyone to know or use hand signals. 
The mixed division will be using Ratio Rule B:

---
All teams are required to complete SOTG scores, following WFDF guidelines, for each match. There will be a computer at the TD desk (in the second part of the day) with a simple form to complete. Please try and submit scores regularly throughout the day so we are not waiting at the end for a large number of scores to be entered.
---
No accommodation is provided to teams so please consider this before entering. The tournament venue is close to the city centre and there is a wealth of hotel, b&b or AirBnB options available.
---
This is a masters age event, therefore males must be 33+ and females 30+. You are eligible if you hit that age at any point during 2022. Players are required to have at least basic UKU membership, but as this is a UK Ultimate National level event, we'd encourage all players to have full UKU membership. If players already have basic membership, they can just get temporary membership for the weekend. Full information at www.ukultimate.com/join.
Entry will be through the UKU GoMembership website in the 'Events & Courses' section: ukultimate.azolve.com - search for 'Indoor Masters'. Entry will be open throughout January 2022, closing on Sunday 13th February 2022. After the entry period is closed, if oversubscribed, teams will be awarded a spot at the event as outlined in the UKU Terms & Conditions of Tournament Entry. Teams that are not successful in being awarded a spot at the event will be refunded.
If you are unsure on how the new entry procedure works, please use the guidelines below to help -
NOTE: You need to be a Club Administrator to enter using this system. If you are not sure who your Club Admin is or you're having trouble with the new process, please email admin@ukultimate.com.
Please submit your team rosters to simon@ninety2ultimate.com before the event for UKU membership spot checks. Thanks.
---
Opposite the venue you can access Norfolk Park field and Norfolk Heritage Park. There is a cafe and children's play area at the far end of the park (maybe a 10 minute walk across the park).
ASDA is the nearest supermarket and cash point, less than 15 minutes walk. There's a KFC opposite the ASDA. McDonald's is less than 10 minutes walk.
You can walk in to Sheffield city centre in approximately 20 minutes, or you can get the tram from the nearby stop on Park Grange Road.