Date
29 February - 1 March 2020
Location

All Saints School / Goals Soccer Centre

95 Norfolk Park Road

Sheffield

S2 2RB

Capacity

16 teams

Cost

£130

Social

#stillgame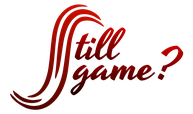 ---
We're offering a two-day masters tournament at the home of Mix'n'Mingle with space for up to 16 teams. Not only can you take home the title of Still Game champions, but also the inaugural UKU Indoor Masters Nationals crown!
UPDATE:
Only six teams are going to be competing in 2020, with the whole event taking place in one day. Hoping to become the first UKU Indoor Masters National Champions are:
Some Team
Random Fling
Rehab
Cowboys
Mexican Horse Bandits
The Brown
---
All players must hold at least BASIC level UKU membership. You can register and update your membership here: 
https://ukultimate.azolve.com/Account.mvc/Login
Further details can be found here: 
---
All Saints Sports Centre is a double sports hall facility capable of hosting a variety of sports. It is home to the Abbey Flyers Trampolining Club, Sheffield Volleyball Club and the City of Sheffield Hatters Basketball Club. Located next to Norfolk Park, the sports centre shares a car park and facilities with Goals Soccer Centre. It's just a short walk from the 'Granville Rd - Sheffield College' tram stop, and approximately 15 / 20 minute walk from the main rail station / city centre.
We will be utilising the main hall throughout Saturday, housing one pitch and including bleacher seating to watch the action. This will also provide space for small warm-ups and spirit circles. We also have use to the seminar room (just inside the main entrance) which all are welcome to use but priority should go to those with small children who may need to be away from the action and noise of the hall. Post-game calls and spirit circles should be kept to the main hall please, and not in the corridors/reception.
Players have access to use the Goals Lounge and bar area all weekend (at the time of writing we are not aware of any party bookings). They do serve food and drink in the Goals Lounge, though the options are fairly limited. There are other options, including ASDA supermarket, a short walk or drive away.
The surface is wooden sports floor, so non-marking indoor shoes please.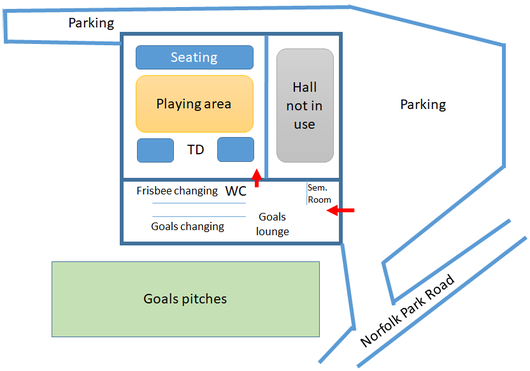 ---
It's a fairly simple schedule this year, with just six teams playing a single round robin pool, followed by a short couple of knock-out rounds. Download a copy of the full schedule below.
Games are 18 minutes long with a 3 minute gap between most games. Longer gaps exist between the pool and knock-out stage to remove the likelihood of any teams having to play back to back games.
Games will start and end with a hooter, albeit quite a high-pitched one.
When the hooter sounds at the end of the game, finish the point. There should be time in the day to allow for minor delays where necessary.
Draws are allowed in the pool stage, with any ties being decided via the UKU rules found here.
Obviously no draws in the knock-out stage. Finish the point after the hooter, and then play a further point if scores are tied.
---
All teams are required to complete SOTG scores, following WFDF guidelines, for each match. There will be a computer at the TD desk with a simple form to complete. Please try and submit scores regularly throughout the day so we are not waiting at the end for a large number of scores to be entered.
---
There's no plan as such, but for those people staying over in Sheffield for Saturday night, we are suggesting Forum, just off Devonshire Green, followed by SONIC at The Leadmill.
---
No accommodation is provided to teams so please consider this before entering. The tournament venue and party are close to the city centre and there is a wealth of hotel, b&b or AirBnB options available.
---
This is a masters age event, therefore males must be 33+ and females 30+. You are eligible if you hit that age at any point during 2020. We want to be as inclusive as possible so welcome entries from Open, Mixed and Women's teams. The likelihood is that the tournament will be 'Open' but with the possibility of additional prizes for the highest finishing teams in each category.
As this is a UK Ultimate National level event, players are required to have full UKU membership. However, if players already have basic membership, they can just get temporary membership for the weekend. Full information at www.ukultimate.com/join.
Entry will be open from 1 October to 31 October 2019 and will be through the UKU GoMembership website in the 'Events & Courses' section: ukultimate.azolve.com. After this date, if oversubscribed, teams will be awarded a spot at the event as outlined in the UKU Terms & Conditions of Tournament Entry. Teams that are not successful in being awarded a spot at the event will be refunded.
If you are unsure on how the new entry procedure works, please use the guidelines below to help -
NOTE: You need to be a Club Administrator to enter using this system. If you are not sure who your Club Admin is or you're having trouble with the new process, please email admin@ukultimate.com.