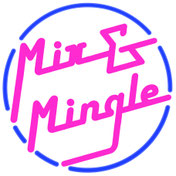 Date
 
 
7th - 8th February 2015

Venue 
 
 

Ponds Forge International Sports Centre

Sheaf Street

Sheffield

S1 2BP 

Fee
 
 
£110
Capacity
 
 
24 teams
---
Mix & Mingle returns to Ponds Forge in Sheffield on the 7/8 February 2015 with a couple of small differences to the usual party format. The usual 80s theme is being replaced with a slightly wider reaching 'RETRO' theme and tournaments from now on will be given a tag line from which you can determine your party costume. There will, of course, still be a huge amount of 80s music, it will just be mixed in with a bit of 60s, 70s and 90s too.
---
Entry will now be split into two categories, Priority and Standard. Priority entries get a guaranteed place (up to the maximum capacity of the event) and also get a little longer to pay up. Standard entries may be subject to a ballot depending on the number of spaces remaining to be filled.
PRIORITY ENTRY
Entry period: Monday 20th October - Friday 31st October 2014
Entries are limited to one per team, and are only to come from teams on the following list:
- the top 8 teams from 2014
- any past M&M champions
- any non-UK teams
- Sheffield Steal
- Sheffield University
- Sheffield Hallam University
- other invited teams
Priority entries must be received by 23:59 on Friday 31st October 2014. Any entries received after this time will be entered as 'standard'. Payment details will be confirmed within 48 hours of receiving your completed registration form.

STANDARD ENTRY
Entry period: Saturday 1st November - Friday 14th November 2014
On the weekend of 15th/16th November, a ballot will take place for any remaining places not taken by priority entries. Successful teams will be contacted and payment details will be provided.
All successful teams, both priority and standard, must ensure payment is received by 23:59 on Friday 28th November. On the weekend of 29th/30th November, any unclaimed/unpaid places will be offered to teams on the waiting list.
---
The 2015 party tag line is:

---
Ponds Forge International Sports Centre is a World class sports venue and attracts some of the biggest and best National and International sporting events on offer.  
For Ultimate use, the hall is split down the middle by way of a curtain and rebound boards, leaving two large pitches either side.  Spectators can watch all the action from the viewing balcony or from behind the safety netting near the pitch entrances on the ground level.  Only players and coaches should be standing on the sidelines of the pitches - this is a safety issue, and actually in the UKU Indoor Rules...
The foodetc. cafe offers a range of hot and cold meals, drinks and snacks; and is open from 9am until 8pm.  This is also a fully licensed bar and has two flat screen TVs for watching the days live sporting action.  Water from the taps around Ponds Forge is NOT suitable for drinking so you should get drinking water from the Cafe, though we may have large containers near the pitch area.
A few venue rules:
~ Competitors' shoes MUST have non-marking soles.  Any player spotted wearing the wrong footwear can, and will, be removed from the hall by the TD at any time.
~ There is very little warm-up space!  Discs MUST NOT be thrown in the reception area or near any doors or fire exits.  Any players warming up (e.g. running) or throwing discs may be asked to stop by centre staff or the TD.
~ Fire exits MUST be kept clear at all times.  The doors should ONLY be used in an emergency as they are all ALARMED.
---
The taps at Ponds Forge do not provide drinking water (though if you don't object to lukewarm untreated water you are welcome to it) so you need to fill up your bottles from the water containers in the cafe. To make it easier on yourself, we would advise bringing at least a couple of litres of water with you, to save having to queue up for more.
---
We'd recommend only bringing a car to the venue if you have to so if you can leave it at your accommodation, you may wish to consider it. Car parking at Ponds Forge is now pay and display and the charges are noted below. The car park is only small but discounted parking is available at the neighbouring Q-Park (which now works out cheaper). I am told it is now £6 for up to 24 hours if you get a voucher from Ponds Forge reception. Further price details are below.
Ponds Forge rates are:
20 min free
2 hours £2.00
4 hours £4.00
6 hours £5.50
12 hours £10.00
24 hours £14.00
For 2 hours and above you will receive a £2.00 voucher which can be spent in the café.
Discounted Q-Park rates (with Ponds Forge voucher):
1-5 hours £1.00 per hour
6-24 hours £6.00
Q-Park info:
---
Unfortunately we are not in a position to offer accommodation for this event.  There, however, are a number of hotels close to Ponds Forge, or get in touch with your Sheffield friends for a free or cheaper alternative!  If you get really stuck we may be able to help out but this is not at all guaranteed so please consider your accommodation before entering the event.
The following are all just a short walk from Ponds Forge: 
Premier Inn Sheffield City Centre
---
We have 24 teams once again this year which provides a fairly tight schedule, but there are plenty of matches for all teams.
Round 1: 4 pools with 6 teams in each
Round 2: Cross-overs in the 5-12 and 13-20 brackets
Round 3: Quarter-finals (1-8, 9-16, 17-24)
Round 4: Semi-finals
Round 5: Finals
NB.
Top and bottom placed teams in Round 1 have one less game on the weekend (due to not having a crossover) but do get later starts on Sunday.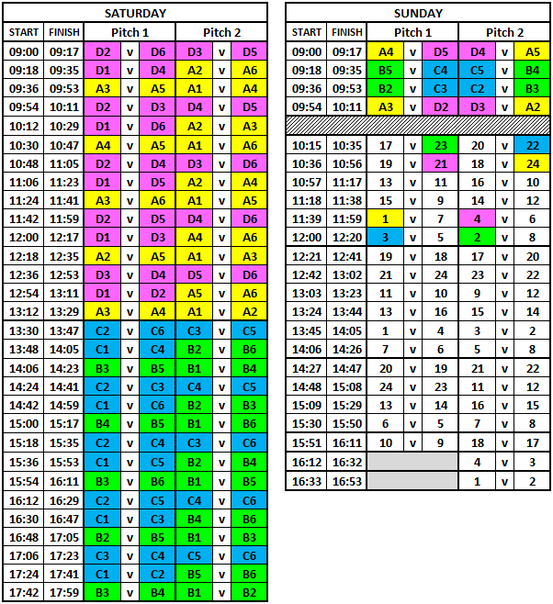 ---

The 2015 party is back in the same venue as last year, with our own private room and bar downstairs at Reflex. As with 2014, we have our own DJ, video screen and plenty of drinks offers to keep you going (see below).
We have the room from 9.30pm until 2am, but after that you are welcome to stay within the main room of the club until it closes.
As ever, you will need to purchase a wristband from Tournament HQ during Saturday's play, as this will provide you with free access to the club and entry into our private room. Wristbands are £3 each and must be purchased during the day as we will not be selling them on the door.
Your fancy dress theme this year is "TO INFINITY AND BEYOND" but don't forget that this is a RETRO party so we expect plenty of old school sci-fi. There will be a prize for the best costume, as voted for by the teams in attendance.
Drinks Offers
As promised, we have the same offers available to us as in 2014:
Shots
Sourz £1
Luxardo £1.50
Buckets of bottles (6 bottles - NO mix & match)
Budweiser £12
WKD £12
Corona £15
Smirnoff Ice £15
Partinis
Cheeky V £7
Sex on the Beach £7
---
---
1.  Relentless - 2015 Champions
------------------------------
2.  Bigger Than You
3.  Black Magic
4.  Pandemic
5.  Brizzle Kicks
6.  Let Ourselves Go
7.  Flyght Club
8.  Affirmative Action
------------------------------

9.  Birmingham - Plate Winners
------------------------------

10. Curve
11. Mustard
12. KittenZOOM
13. Hallam
14. Some Team
15. V's Team
16. Lazy Asses
------------------------------

17. York - Bowl Winners
------------------------------

18. Team Rehab
19. Omega 3
20. Steal
21. Lemmings
22. Glue Factory
------------------------------

23. Hull Night Long - Spoon Winners
------------------------------

24. Phat 'eds
Final MVPs

Male - Dec (Relentless)
Female - Ange (Bigger Than You)
Spirit

1.  Team Rehab
2.  Lazy Asses
3.  Steal / KittenZOOM
Party - Best Costume
Glue Factory (Mario Kart)