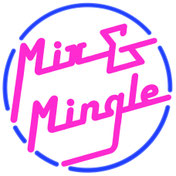 Date
 
 
30th - 31st January 2016

Venue 
 
 

English Institute of Sport

Coleridge Road

Sheffield

S9 5DA 


Fee
 
 
£120
Capacity
 
 
32 teams
---
Mix & Mingle heads to a new home in Sheffield at the English Institute of Sport (EIS) on the 30/31 January 2016, now with space for 3 pitches and 32 teams! As usual there is RETRO theme to the whole weekend with plenty of old school tunes throughout the days and a themed party on the Saturday night.
---
Mix & Mingle 2016 - final schedule
Apologies for the tiny text. There will be larger copies on the wall around the venue.
Full schedule.pdf
Adobe Acrobat Document
227.3 KB
---
Entry is split into two categories, Priority and Standard. Priority entries get a guaranteed place (up to the maximum capacity of the event) and also get a little longer to pay up. Standard entries may be subject to a ballot depending on the number of spaces remaining to be filled.
PRIORITY ENTRY
Entry period: Monday 19th October - Saturday 31st October 2015
Entries are limited to one per team, and are only to come from teams on the following list:
- the top 8 teams from 2015
- any past M&M champions
- any non-UK teams
- Sheffield Steal
- Sheffield University
- Sheffield Hallam University
- other invited teams
Priority entries must be received by 23:59 on Saturday 31st October 2015. Any entries received after this time will be entered as 'standard'. Payment details will be confirmed within 48 hours of receiving your completed registration form.

STANDARD ENTRY
Entry period: Sunday 1st November - Saturday 14th November 2015
After the standard entry period, a ballot will take place for any remaining places not taken by priority entries. Successful teams will be contacted and payment details will be provided.
All successful teams, both priority and standard, must ensure payment is received by 23:59 on Friday 27th November. On the weekend of 28th/29th November, any unclaimed/unpaid places will be offered to teams on the waiting list.
---
In 2016, get ready to be shaken and stirred as we have a licence to thrill! Our SPY themed Saturday night will be packed full of retro tunes which will totally be your bag baby! Yeah! So grab your crushed velvet suit, pocket your PPK and go-go-Gadget down into the danger zone!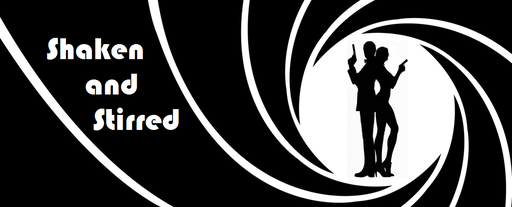 ---
The English Institute of Sport in Sheffield (EISS) is one of the country's largest and most impressive indoor multi-sport training centres. It is the training venue of choice for a number of sports and has previously hosted the likes of the AAA Championships, World Volleyball Championships, English Table Tennis Championships, and Netball European Championships.
We have exclusive access to the three pitches in the main netball hall and the surrounding balcony.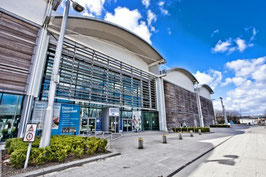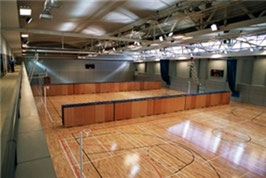 A few rules to adhere to please:
- Non-marking indoor shoes only
- Fire exits are only to be opened in an emergency
- Leave all exits clear of bags and belongings
- Only spectators on the narrow balcony please (no bags)
- No spectators beyond HQ on the narrow balcony
- No access to the Badminton Hall
- Do not throw discs in or around the reception area
- Please watch from the balcony or behind the netting where possible
- Please respect all other centre users and staff
- The seating around the running track can be used but do not interfere with any activities taking place within the athletics arena
- The family room is for use by those with small children
This is a very basic outline of the layout of the building: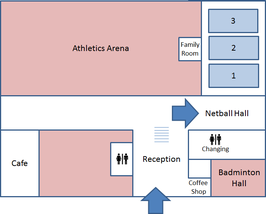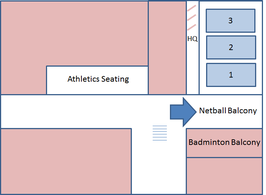 ---
Café opening: 10am-2pm
Coffee bar opening: 9am-4pm
There is also a café/bar at Ice Sheffield which is just opposite the EIS and the nearest pub is Arena Square but there is also a range of eateries such as Nando's, Harvester, KFC, BK etc at the nearby Valley Centertainment (along with cinema and bowling).
---
There is a single water fountain in the reception area and you will also be able to get water from the cafe during opening hours. The water from the taps in the changing rooms is not recommended for drinking.

---
If you live in Sheffield or are staying in the city centre, we'd recommend getting the tram to the tournament venue then you won't have to bother with car parking. If you need to drive, parking should be £3 per day and you will need to pay the car park steward when you arrive.
If you take the tram, you need the 'Arena - Don Valley' stop and the EIS is a short walk from there.
---
Unfortunately we are not in a position to offer accommodation for this event.  There are, however, are a number of hotels close to EIS or in the middle of town, or get in touch with your Sheffield friends for a free or cheaper alternative! If you get really stuck we may be able to help out but this is not at all guaranteed so please consider your accommodation before entering the event.
Here is a list of the recommended cheap hotel options and approximate distances from the tournament and party venues. Get in quick as a number of chains have deals on during December.
Close to tournament (0.2 miles to EIS, 2.5 miles to party)
Hotel Ibis Budget Sheffield Arena
Premier Inn Sheffield Arena Hotel
Close to party (2 miles to EIS, 0.5 miles to party)

Holiday Inn Sheffield
Holiday Inn Express Sheffield City Centre
Travelodge Sheffield Central
Hotel Ibis Sheffield City
Premier Inn Sheffield City Centre
Other (1.7 miles to EIS, 4 miles to party)

Travelodge Sheffield Meadowhall
---
The plan is:
8 pools of 4, followed by 8 top16/bottom16 'power pools' of 4 (with one result carrying over)
Cross-over round in the 9-24 bracket
Round of 16, Quarters, Semis and Finals
The basic schedule is below and the final schedule can be downloaded from the top of the page.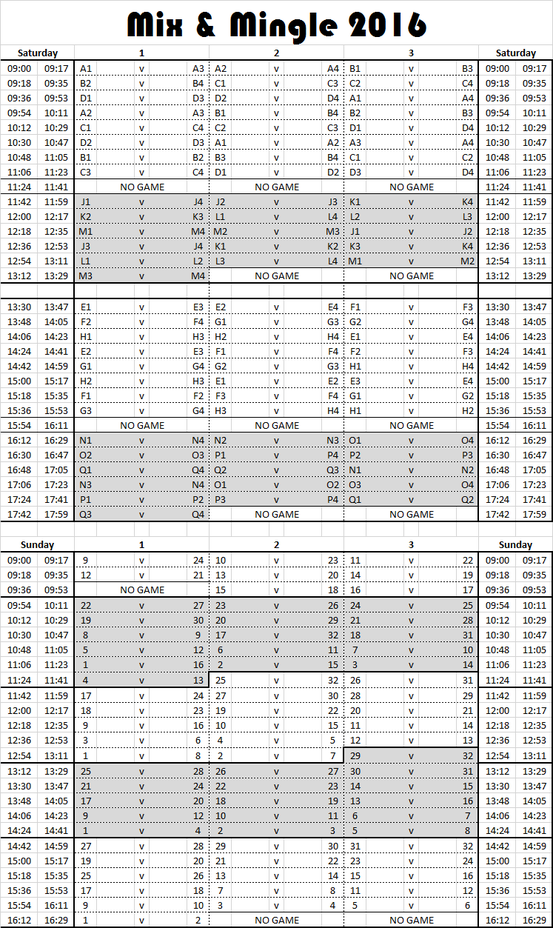 ---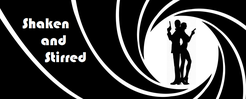 Tom Styles will be back spinning the tunes but this time at a new venue close to Sheffield train station.
10pm-2am @ Showroom: Workstation
The £3 per head entry fee will once again be in place, with wristbands available throughout Saturday. You will need to purchase these before leaving the sports hall as you will not be able to get them on the door (and we are told there will be security at the venue).
The theme is shaken and stirred but if you struggle with a spy-themed outfit, don't worry, you can always resort to standard retro! There will of course be a prize for the best team or individual costume!
We'll have the space of two floors at the venue so if you want to relax away from the dancefloor, you should be able to head on up to the mezzanine for a chill.
Example bar prices are:
- Stella £3.90
- Local real ale £3.60
- Kopparberg £4.10
- Tequila £2.70
- Gordon's/Smirnoff £3.10
- House wine £3.80/£4.80
---
This year we'll have a load of items available to purchase at the ninety2 events store! Cash only please.
Mix & Mingle discs - £10.00
Five Ultimate Sheffield Hat jerseys - £5.00
Savage Ultimate TyneSevens jerseys - £15.00
Savage Ultimate trucker caps - £5.00
Savage Ultimate shorts - £15.00
---