Date
 
 
 
4th - 6th September 2015
Location
 
 
 

Hillsborough Sports Arena

Middlewood Road

Sheffield

S6 4HA 

Capacity
 
 
 
160 players
Cost
 
 
 
£35
---
---
---

In light of our failed request to get the Sheffield Hat BULA recommended (mainly due to the huge cost of sand) we are making this year's tournament a HAWAIIAN BEACH THEMED event!

---
Plans are afoot for the 6th annual Sheffield Hat tournament. Returning once again to Hillsborough Arena, we have increased the capacity but kept the prices the same! Based on the feedback received, we will be returning to 10 players on each team to increase your pitch time. This means we'll have up to 16 teams competing this year.
---
This is the plan from entry opening to the event itself. Other tournaments have been included so you know how our important dates fit in with the rest of the UK Ultimate calendar! We hope that providing you with a timeline of communication etc will help with the arrangement of details and response to queries. There may, of course, end up being more emails than the six listed, but these are the planned ones!
Note that places in the tournament are confirmed when payment is received so we recommend paying ASAP in order to confirm your place. If you wait until the payment deadline, you run the risk of not playing at all!
| | |
| --- | --- |
| Tuesday 2nd June | Entry opens at 7pm |
| Monday 15th June | Email 1 |
| 20-21 June | UKU Tour 2 |
| 27-28 June | Fishbowl |
| Monday 29 June | Email 2 |
| Friday 3rd July | Initial payment deadline (the fee increases after this date) |
| 4-5 July | UKU Tour 3 |
| Monday 13th July | Email 3 |
| 18-19 July | DUFFA Hat |
| Monday 27th July | Email 4 |
| Friday 31st July | Final payment deadline |
| Monday 3rd August | Kit order placed |
| Monday 17th August | Email 5 |
| 22-23 August | UKU Nationals |
| 29-31 August | British Thumber Time |
| Tuesday 1st September | Email 6 |
| 5-6 September | Sheffield Hat |
---
On completion of the entry form, you will be presented with payment details (you may need to scroll to the top of the page to see these - it's a Google thing). We urge you to pay as soon as possible to confirm your place as there are a limited number of spots available.
Last year's event was filled to capacity and whilst we have added some places this year, there are only an extra 15 or so spots so act quickly to get involved!
If the maximum number of payments are not received, or signups are fewer than expected, then the payment deadlines will come into force. After the initial deadline, the fee rises from £30 to £35.
---
This will be the fourth year we have used Hillsborough Arena for this event and it is a great little venue, providing the perfect atmosphere for this relaxed, end-of-season tournament.
Whilst mainly used for football and rugby, the venue and staff have been extremely accomodating in the last couple of years, making everyone feel welcome and ensuring that Ultimate has a home here.
There are a number of rules to be followed, however, so please have a read of the list below. Obviously some rules are more serious than others, but please be aware that breaches could threaten the future running of this event.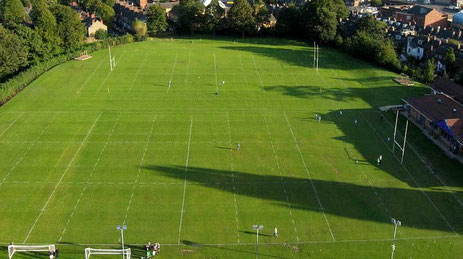 Please don't bring your own alcohol – this is a licensed venue (including the outside areas) and only alcohol purchased from the bar can be consumed on site. Venue management can, and will, confiscate any 'external' alcohol that they spot you with.
Whilst the bar is open until 12am (they stop serving at 11pm), the venue is surrounded by a residential area on three sides so please keep outside noise to a minimum after 11pm. If the venue receives complaints from the neighbours, we'll no longer be able to camp here putting future editions of the Sheffield Hat, and other events, in jeopardy.
Please put all your litter in the bins! We will have loads of bin bags at HQ so please ask us for them if you need.
Toilets & showers are open all night for your convenience (far side of main building) – please try to leave these as you would wish to find them (and don't abuse the hedges)!
No muddy boots in any of the buildings. This includes the changing rooms (which always seem to get muddy) so please leave your boots outside!
If you bring any valuables with you, you do so at your own risk – neither the TD nor the venue will accept any responsibility for loss or damage.
We have plenty of on-site camping space for both the Friday and Saturday nights, with 24 hour access to toilets and showers.  
There is a charge of £10 per tent, which is the amount requested by the venue (we're not making a profit from you!).  You can either pay this at the same time as your player fee, or when you arrive and register on the day, but you will not be allowed to pitch your tent without confirmation of your payment.
As with previous years, you will be provided with a numbered tag for your tent, so that we, and the venue management, know that your camping fee has been confirmed.  All fees will then be passed on to the venue at the end of the weekend.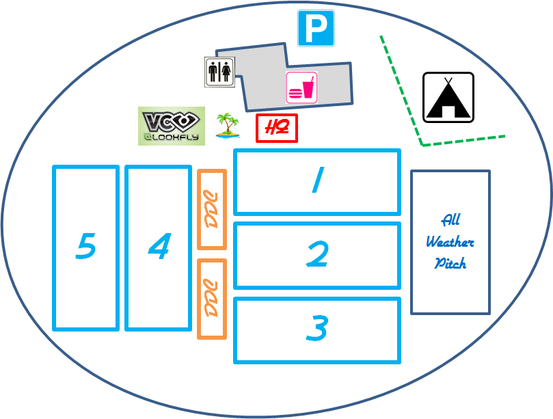 ---
This year the jerseys are being supplied by FIVE Ultimate. Check their sizing before signing up! See the sizing charts here. We will order either male or female fit jerseys depending on what you prefer. Just choose your fit and size on the registration form.

Everyone should also bring with them a black and a white jersey in case of colour clashes over the weekend. There will definitely be more than one team in either the same or similar colours.
---
Spirit is really important to us here at the Sheffield Hat and we like to reward you with a heap of prizes! Not only does the most spirited team win a prize, there are also individual prizes for the most spirited player on each team, as voted for by your opposition.
This year there is a slight change to the Spirit scoring as we will be using the 'Alternative SOTG Score Sheet'.
Just like the official WFDF score sheet, Spirit is marked 0-4 over five categories but this version is aimed more at fun tournaments like ours. It'll mean Spirit scoring should hopefully be a more enjoyable and entertaining part of the weekend rather than the sometimes serious and laborious task of using the official sheets.
The five categories are:
- Fair play
- Intensity
- Daringness
- Spirit speech / sense of humour
- Fun
---

The last game on Saturday is traditionally the MVP showgame. Throughout the day you will have been nominating MVPs from your team and your opponents and the 16 players with the most votes at the end of the day will take place in the showgame.
Showgame participants not only get fancy MVP kit from VC-Lookfly, but also the chance to win some additional merchandise if they finish the match as the top points scorer!

Alongside the showgame we run a game of Fantasy Ultimate. The way we run it is, we think, very simple. You pay £2 to select one player from each team. This is done without knowledge of who the players are by selecting a box on the game grid. You will only know who you have chosen when we announce the players just before the game. With eight players on each team, there are sixty-four combinations of players on the grid.
The players will earn you points based on a tried and tested scoring system and if you end up with the highest scoring combination you will win half of the cash pot! The other half goes in to our charity collection.
---
Every year we try and raise some money for charity but, perhaps more importantly, we also aim to raise awareness of the issues and the work that the organisations do. This year we are supporting Early Recognition Is Critical, or ERIC.
ERIC employs Ultimate Frisbee Clinics and Tournaments to teach youth about body and cancer symptom awareness and the importance of healthy living, and the organisation has the following values:
- Providing sports opportunities for all youth
- Helping youth get excited about physical activity and knowing their body including healthy living and body maintenance
- Teaching youth about the values of sportsman-like conduct
- Helping youth learn respect for others, on and off the field, and learning to work collaboratively in times of agreement and disagreement
- Teaching youth to speak up for themselves on the field, at school, and at home
Here is some more info from their website http://www.earlyrecognitioniscritical.org/
How We Execute Our Mission
- Harness clinical expertise through the establishment of Clinical Advisory Boards (comprised of Pediatricians, Oncologists, etc.)
- Develop age-appropriate content for youth to learn about health, cancer, ultimate frisbee, etc.
- Host Utimate Frisbee Clinics and Tournaments for middle-school aged youth and
- Utilise educational/promotional videos and other marketing materials to inform/educate schools (administrators, teachers, youth), parents, caregivers
- Teach youth leadership skills (public speaking, negotiation, conflict resolution, event planning and execution, etc.)
- Create a network of qualified and certified ERIC coaches to help support and share the organisation's mission nationally
- Procure New Clinics through Schools, Groups (such as Boy Scouts and Girl Scouts) and AUDL Teams (there are presently 3 regional ERIC coordinators who will be actively calling on schools and organizations.  
- Donate discs to all School partners and t-shirts (for coaches and select participants)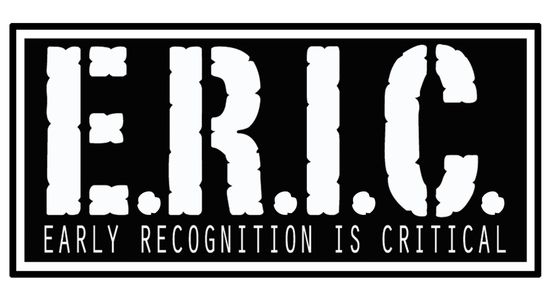 ---
The tournament will be played under full WFDF 2013 rules (a copy will be available if required) except that there are 5 players on each team and the pitches are smaller (5v5 BULA-sized). We recommend familiarising yourself with, at the very least, the basic rules of the game. The games will be 40 minutes long and there are no points caps or half time. A hooter will sound at the start and end of the 40 minute time period. On hearing the hooter at the end of the game, please finish the point before stopping. If scores are tied at this time, play a sudden-death point to determine the winner.
Team Rep
Each team needs to nominate a representative and let us know at HQ who that person is, BEFORE your first game. You may assign any responsibilities you wish to your rep (e.g. coaching/tactics etc) but the only thing we need them for is the reporting of scores and attendance at the reps' meeting.
Scores
After each game the rep for your team should report to tournament HQ and hand in the score as well as your opponent's overall spirit score, your nomination for 'most spirited player' and MVPs (all on one handy score sheet).
Be inclusive
Please ensure that any beginners receive a positive introduction to Ultimate by being friendly and helpful (whether they are on your team or not!). We request that you ensure players of all levels get plenty of pitch time and plenty of opportunities to handle the disc.
This event is classed as an 'open' tournament but there will be women on every team so please try and match up as far as possible.
---
The format is still to be confirmed but each team should play 8-10 matches over the course of the weekend, depending of course on the final number of teams we have competing. In 2014, for example, there were five pool matches on Saturday and three or four knock out rounds on Sunday.
---
Roll up to the funzone throughout the weekend to entertain yourselves between games. There will be spikeball and beer pong, as well as fastest throw and accuracy games. There'll likely be a few competitions over the weekend so listen out for announcements.
Lookfly will also be holding a photo model competition so if you buy some swag from them you get a chance to strut your stuff for prizes!
---

Friday evening will see the usual quiet night with registration going on in one end of the bar (8pm-11pm) and teammates and friends meeting up for a few drinks.
Saturday sees the main event of the Hawaiian Beach Party!!
We will have some special drinks offers on the bar and some themed cocktails as well as the legend that is Tom Styles DJing in the main hall. On top of that, you can try out your skills on the surf simulator and take part in our surfing competition! It will likely kick off around 8pm, with the bar open until 12am (building closes at 1am).
---
We will have one DDC court marked out for your use (maybe two) and a set of official 110g discs for you to play with. We'll also have a copy of some rules in case you want to read them.
If you've never played before, we recommend the following websites:
---